Vintage audio gear connoisseur, computer enthusiast, time nut, music lover, vintage games gamer, nerd, tinkerer and shady electronic projects maker
Electronic DC Load Banana jack adapter
Introduction
With this adapter, you can finally use your 4mm standard banana plugs in your DC load.
This kit comes with the adapter board and 2x female 4mm Panel-mount Banana Sockets, Red for positive polarity, Black for negative polarity with necessary hardware to attach to the PC Board. No soldering necessary.
It is rather cumbersome to screw the fork terminal connector every time you want to quickly plug in a device with a plethora of banana plugs. 4mm banana plugs are standard in everyone's electronic lab. Banana plugs can be rated up to 30A, so why not add this quick functionality to your already existing DC load?
This Banana Jack Adapter allows you to connect standard 4mm banana plugs to your DC loads screw terminal (if you don't have them).
P.S. I never understood why manufacturers can't implement banana connectors to screw terminal caps (some of them do).
Design overview
Adapter that can be used with the majority of DC Loads brands including Maynuo, ITech, Korad, Tenma, Rigol, BK Precision and Keithley. The list of brands is not exhaustive.
Adapter will fit on any DC load with standard pitch of screw mount contacts 29.975mm / 1.181" and 6mm screws.
Main design features:
■ Adapter fits all dual banana plugs and/or banana plugs to BNC adapter.
■ DC Load Screw mount contacts: 29.975mm / 1.181" (standard). Hole size: 6.40mm / 0.25"
■ Banana Jack spacing: 19.05mm / 0.75" - 3/4" (standard width).
Fits all dual banana plugs and/or banana plugs to BNC adapter. Hole size: 4.20mm
■ Maximum PCB Rated Voltage: ~500V / IPC-2221 standard
Maximum PCB Rated Current: up to 30A / IPC-2221 standard
■ Copper traces are top and bottom paralleled, interconnected with vias.
Copper traces conductors have a 3.175mm spacing.
■ 4mm Panel-mount Banana Sockets are Fully Insulated.
Rated Voltage: 1000V (CATIII), Rated Current: 32A (Max.)
I have originally designed this adaptor for my DC load, but this turn out so well that I have now posted all schematic, gerber files and documentation to fellow enthusiast such as yourself :) Perhaps (and I hope) content in this obscured corner of interwebs will inspire you to start your own projects. These boards look absolutely gorgeous in white solder mask to match the color of majority test gear.
⊂(◉‿◉)つ
Except where otherwise noted, content on this site is licensed under a Creative Commons Attribution 4.0 International license. CC-BY-4.0
I have created content on this website free to use for personal, educational and commercial purposes. If you like or use my work, please mention me or perhaps consider a donation.
... but if you feel like getting something for nothing isn't your cup of tea (completely understandable) (ಥ﹏ಥ) and a prefer to support me and get something back in return, then you can purchase directly on my eBay or Tindie shop. However if you are still up for an adventure */in very positive way/* (and are happy to have PCB's made yourself in your favourite PCB house - PCBWay is highly recommended), then carry on, download gerber files and have fun! ( ͡° ͜ʖ ͡°)
EDA preview
click on pictures to enlarge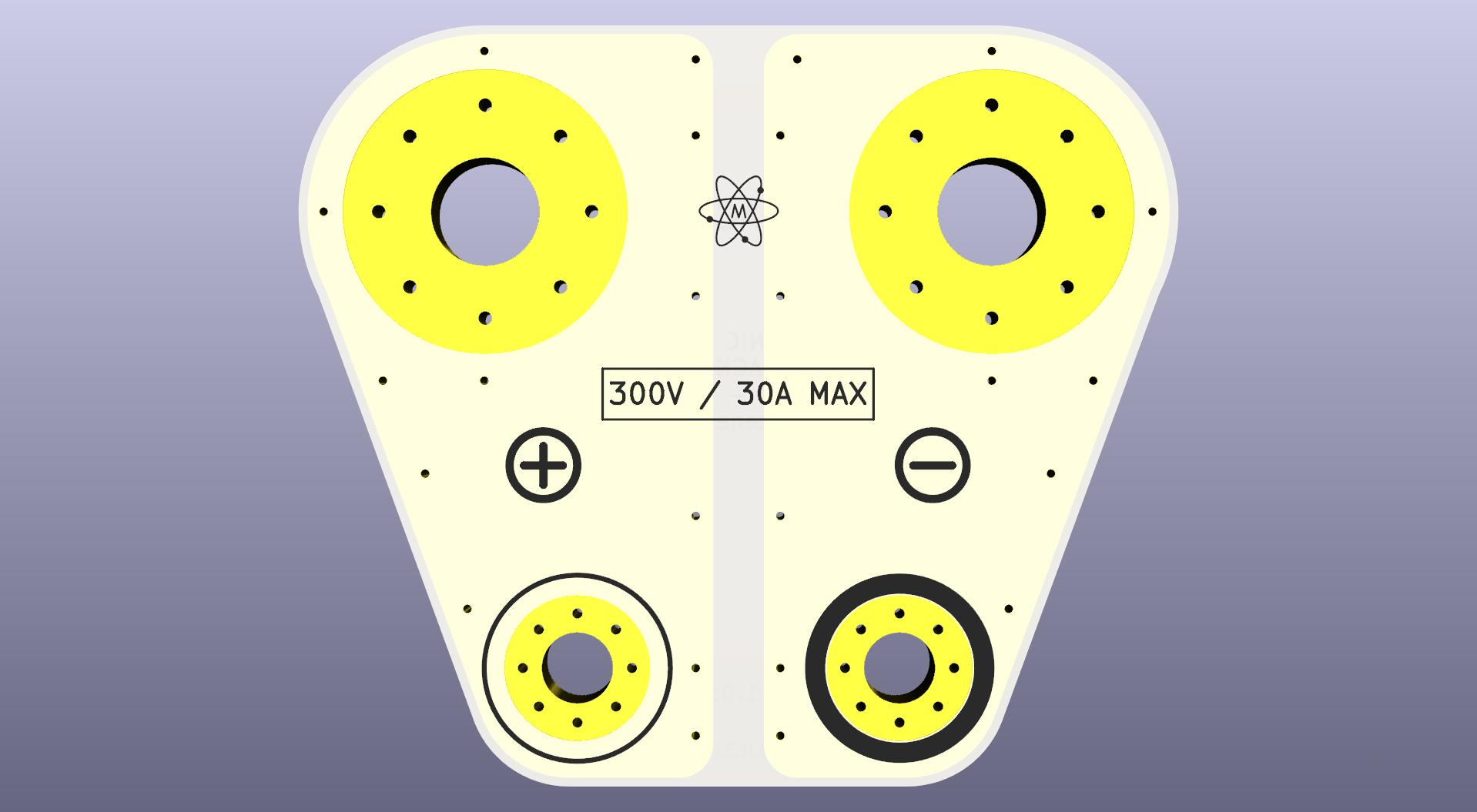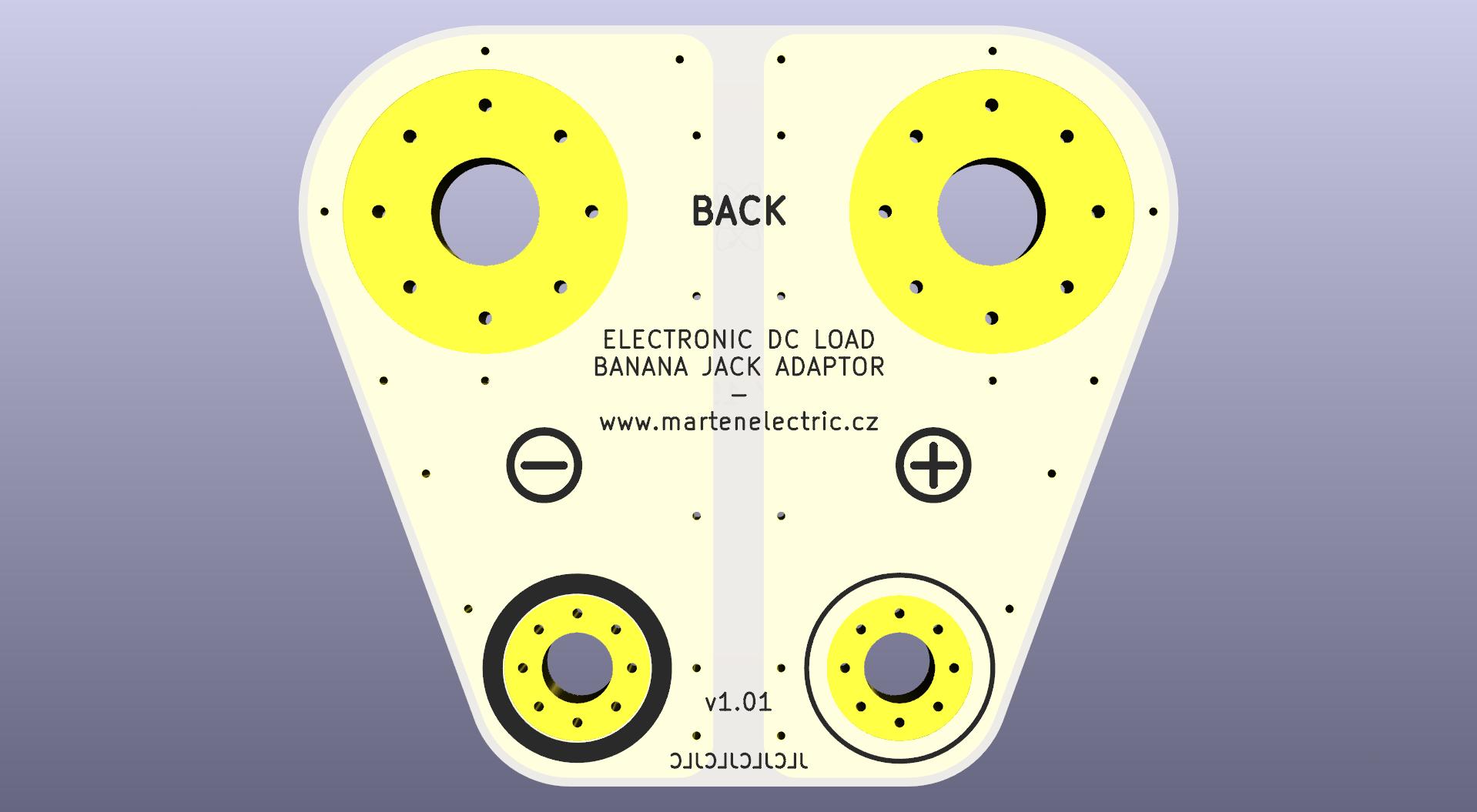 3d render v1.01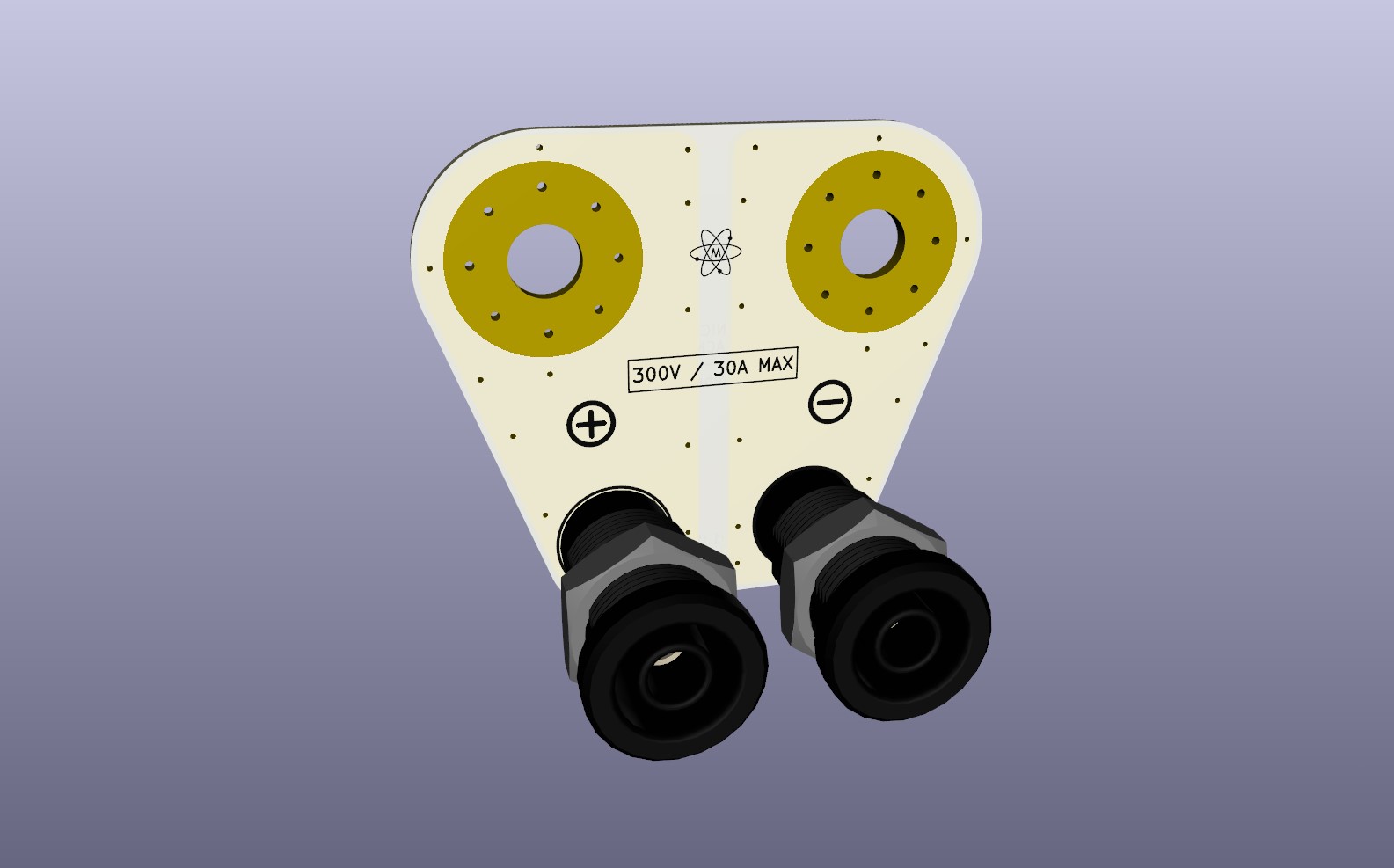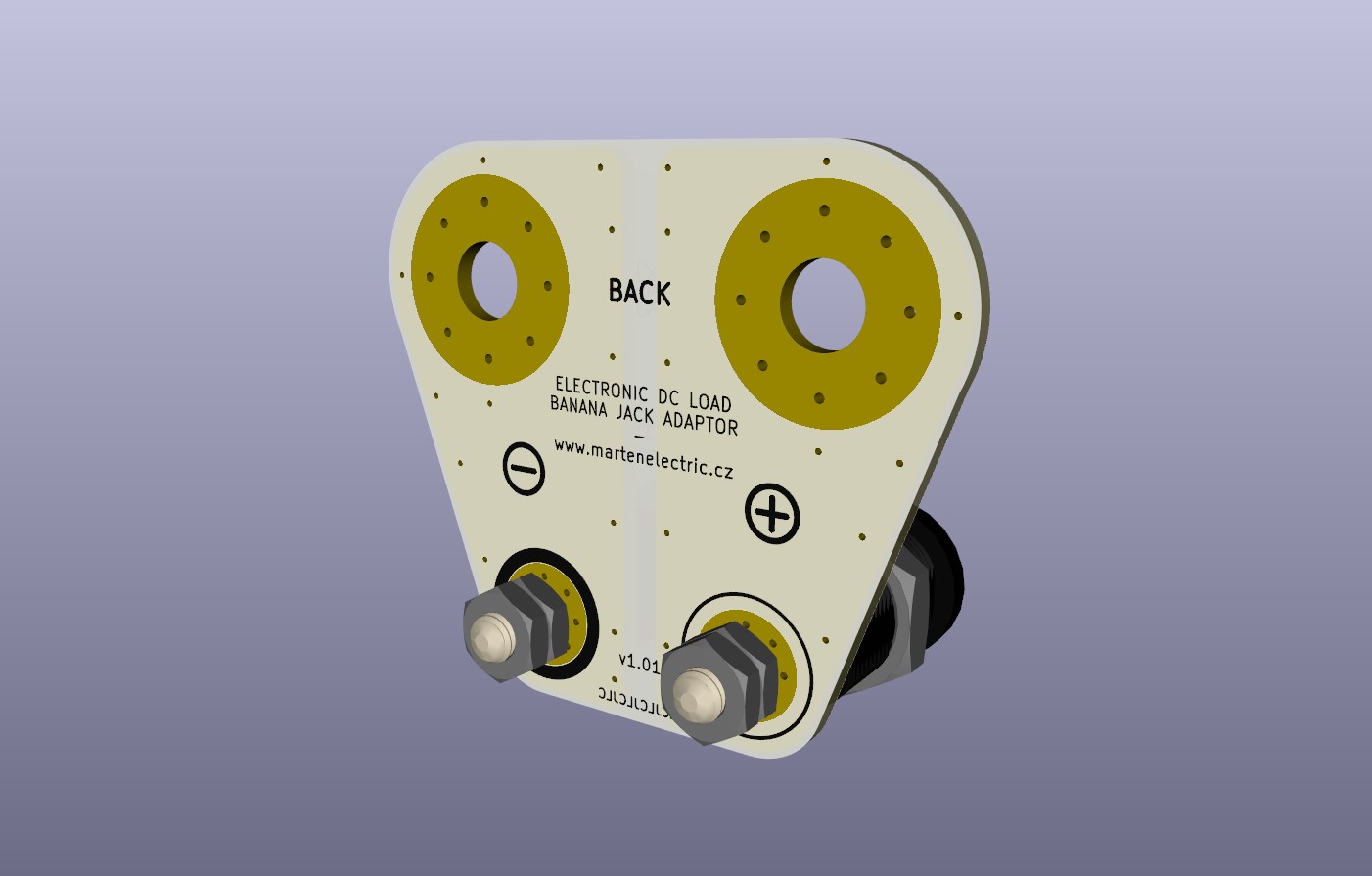 PCB design layout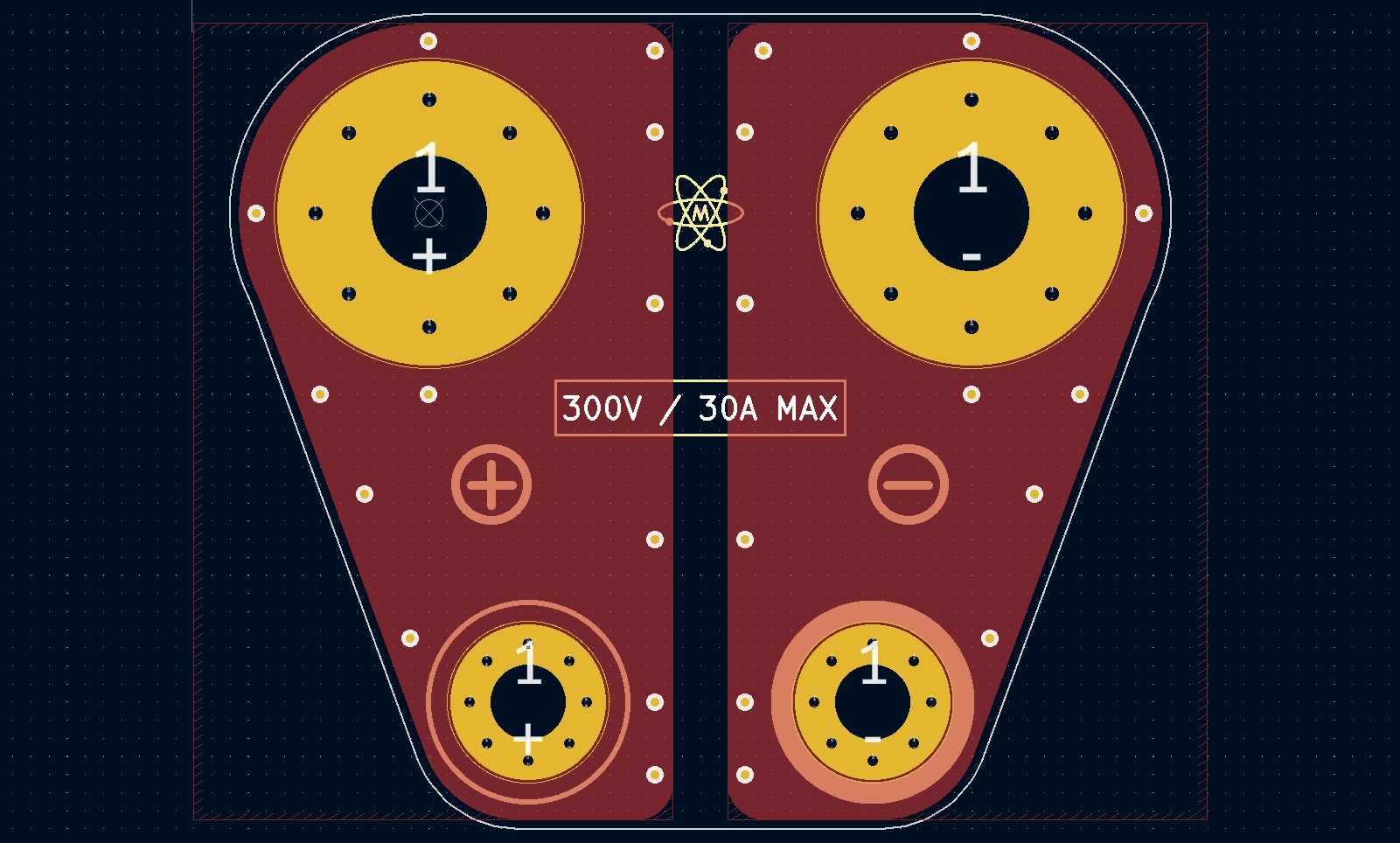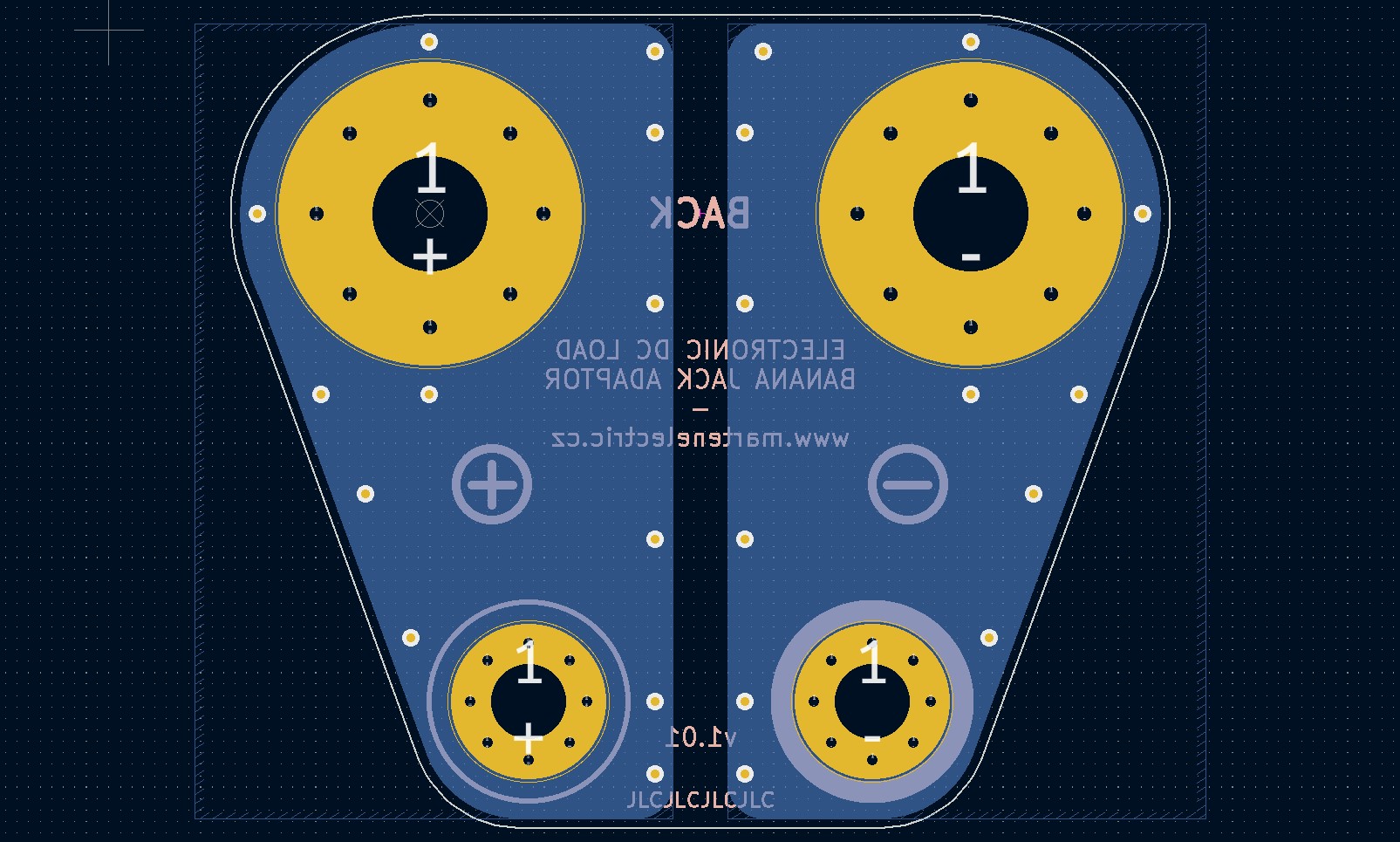 Specifications
Board Type: Adapter
Board Material: FR4-Standard Tg 130-140C Epoxy Glass Composite
Layers: Double sided
PCB Colour: White colour solder mask, black silk screen lettering
Surface Finish: Lead free HASL-RoHS
External size: 52 x 45mm
Board Thickness: standard 1.6mm
Board Connector Banana female connector 4.00mm dia
Copper Thickness: 35um
Card weight: 10g bare PCB, 20g assembled.
Bill of materials
Identifier
Value
Qty
Notes
Printed Circuit Board
52 x 45 mm DC Load Banana jack adapter
1
v1.01
Connector
H3
Banana Test Connector, Jack, Panel Mount, 32 A, 1 kV, Nickel Plated Contacts, Red
1
Manufacturer Part No: MP770555
Datasheet banana-sockets-multicomp.pdf
Connector
H4
Banana Test Connector, Jack, Panel Mount, 32 A, 1 kV, Nickel Plated Contacts, Black
1
Manufacturer Part No: MP770556
Datasheet banana-sockets-multicomp.pdf
Assembly instructions and notes
■ Gerber files contain " JLCJLCJLCJLC" to the silk layer. You can specify a location of the order number, select the "Specify a location" option when you place an order. Only if you order via JLCPCB
■ No soldering required

■ Assembly:
1 - Insert banana sockets into holes H3, H4, watch for polarity symbols - Red in positive side, black in negative side. Tighten M4 nuts firmly.
2 - Mount to your DC load fork connectors and tighten firmly
3 - Do not exceed maximum rating of 300V / 30A or else :)

Schematic
Design Files
Photographs
click on pictures to enlarge
gerber files and photographs may vary, v1.0 pictured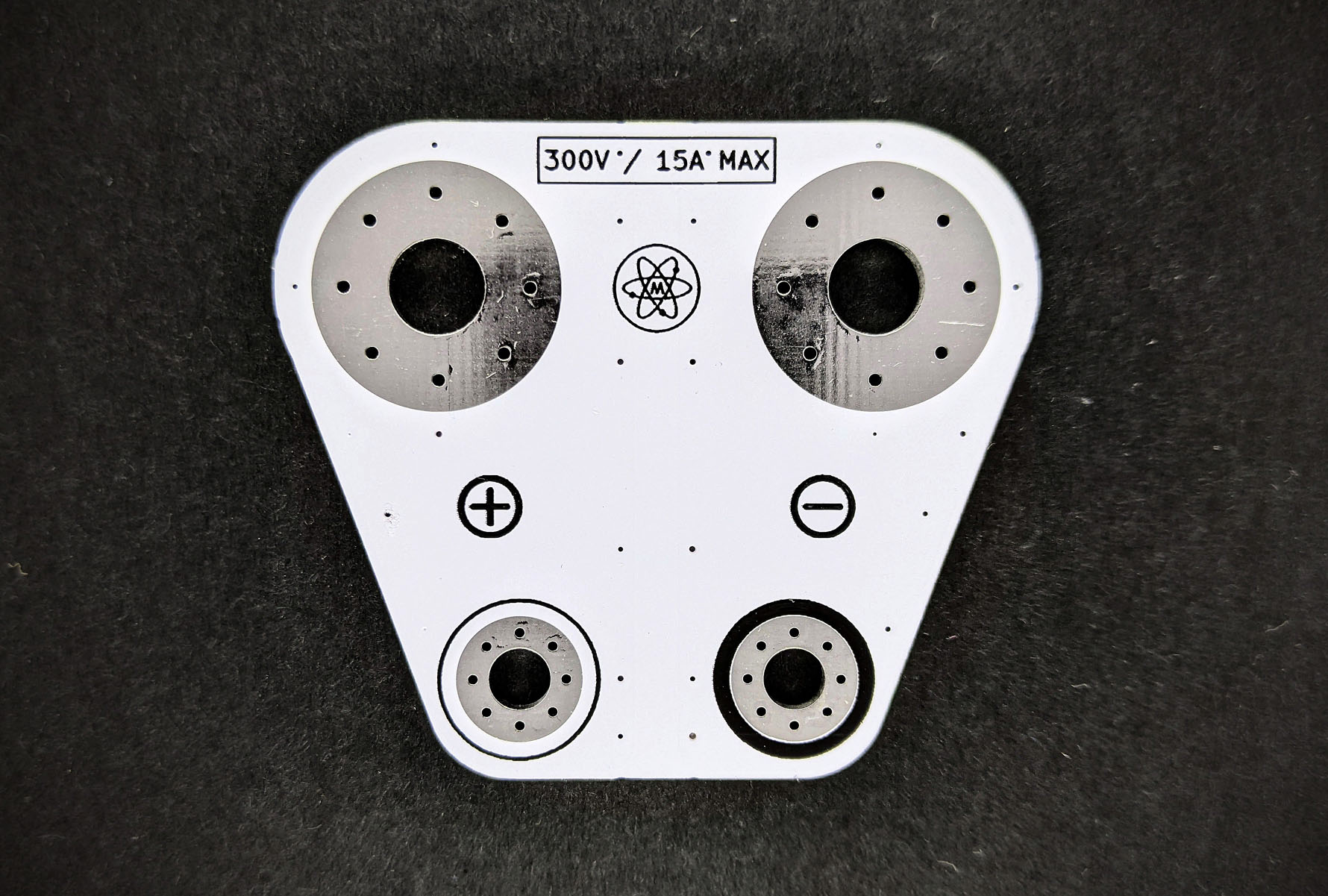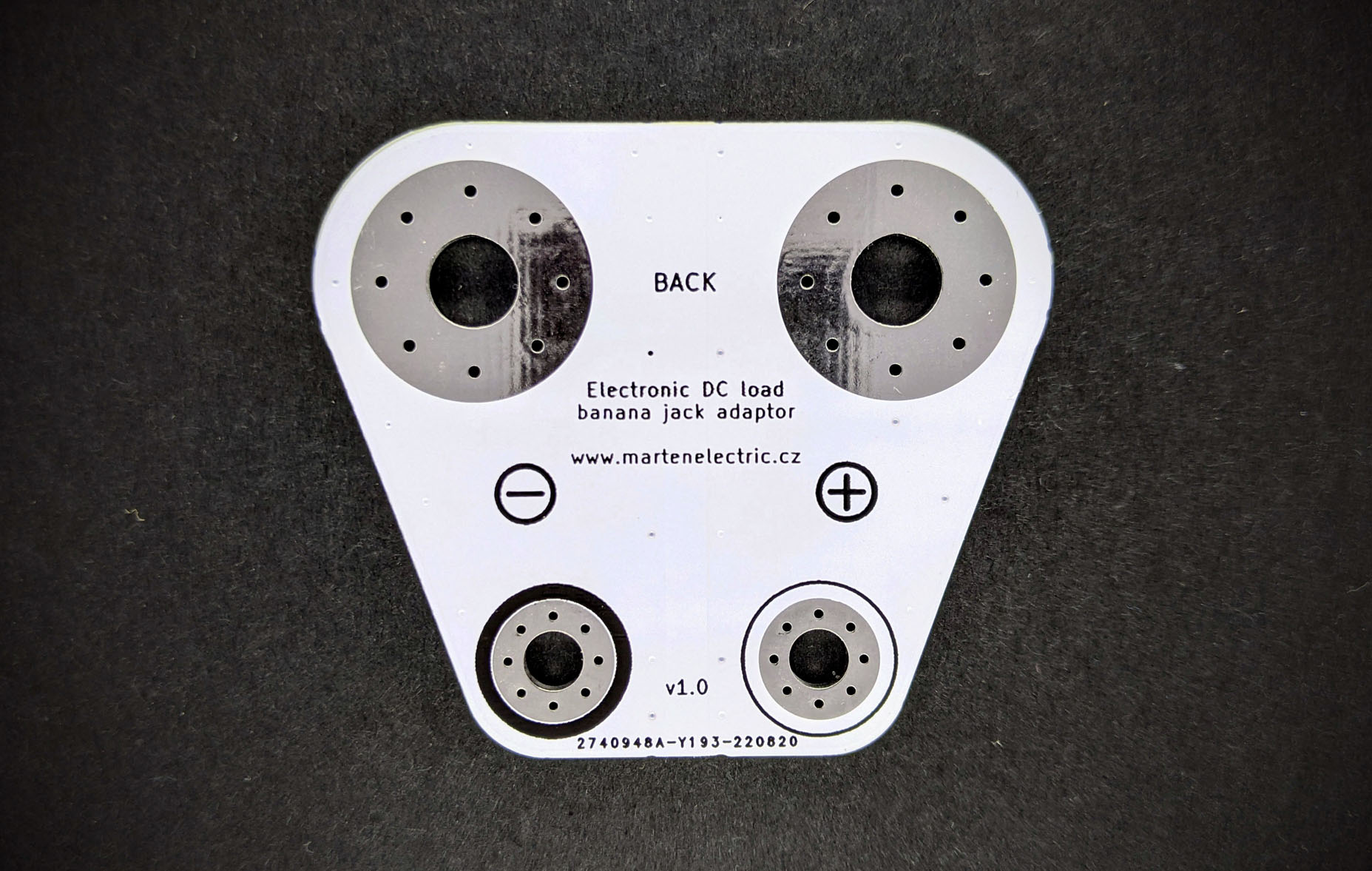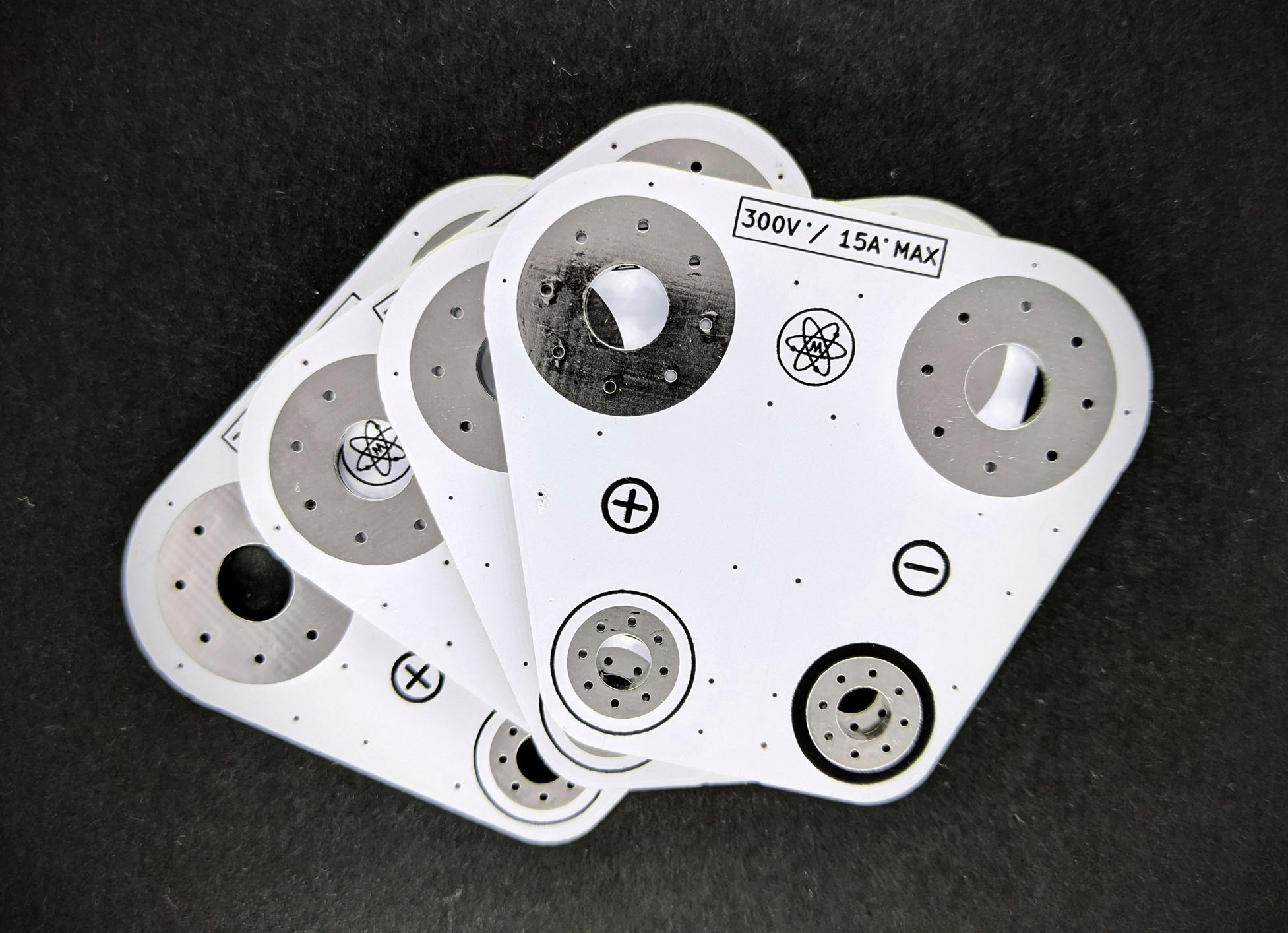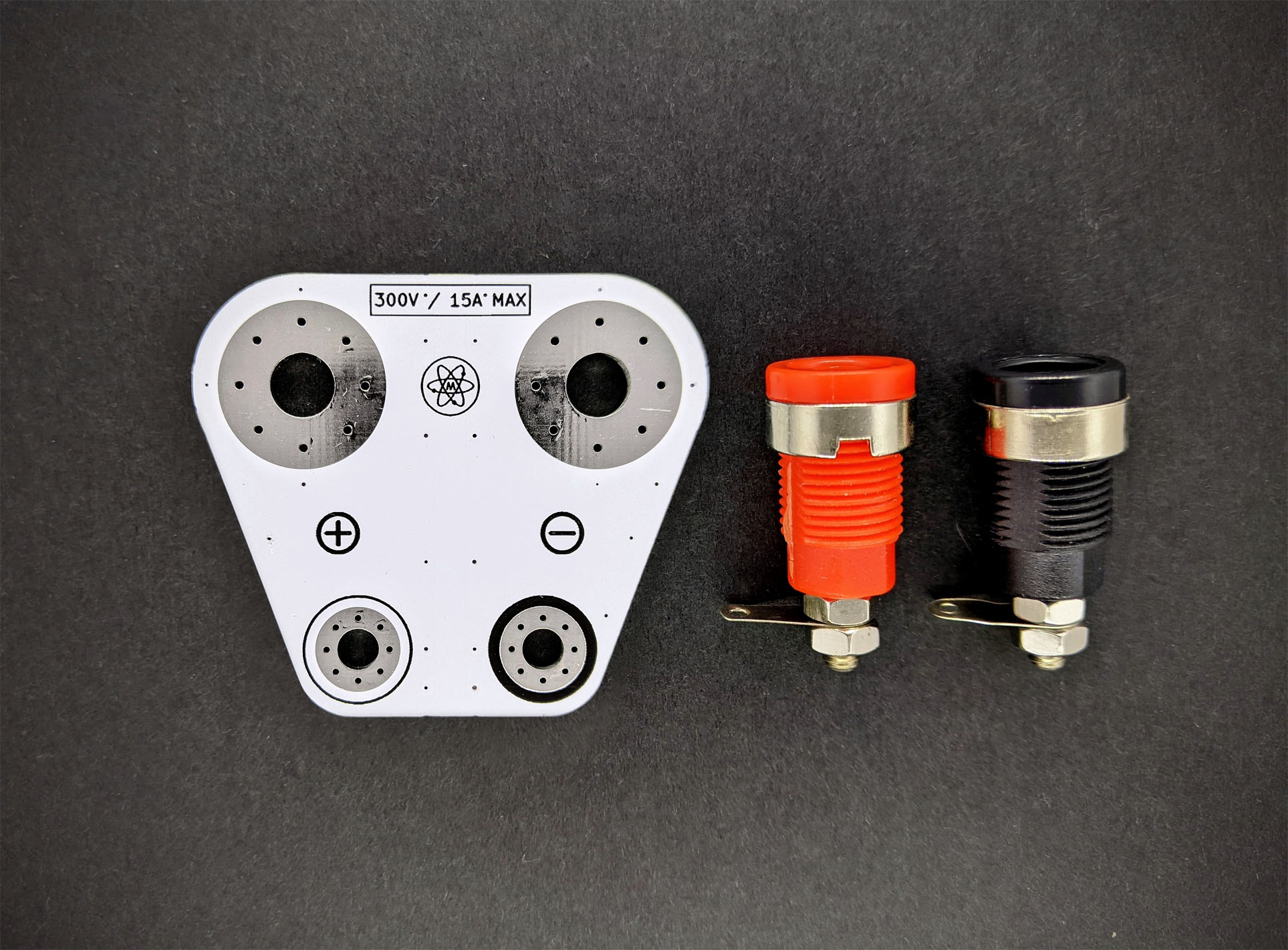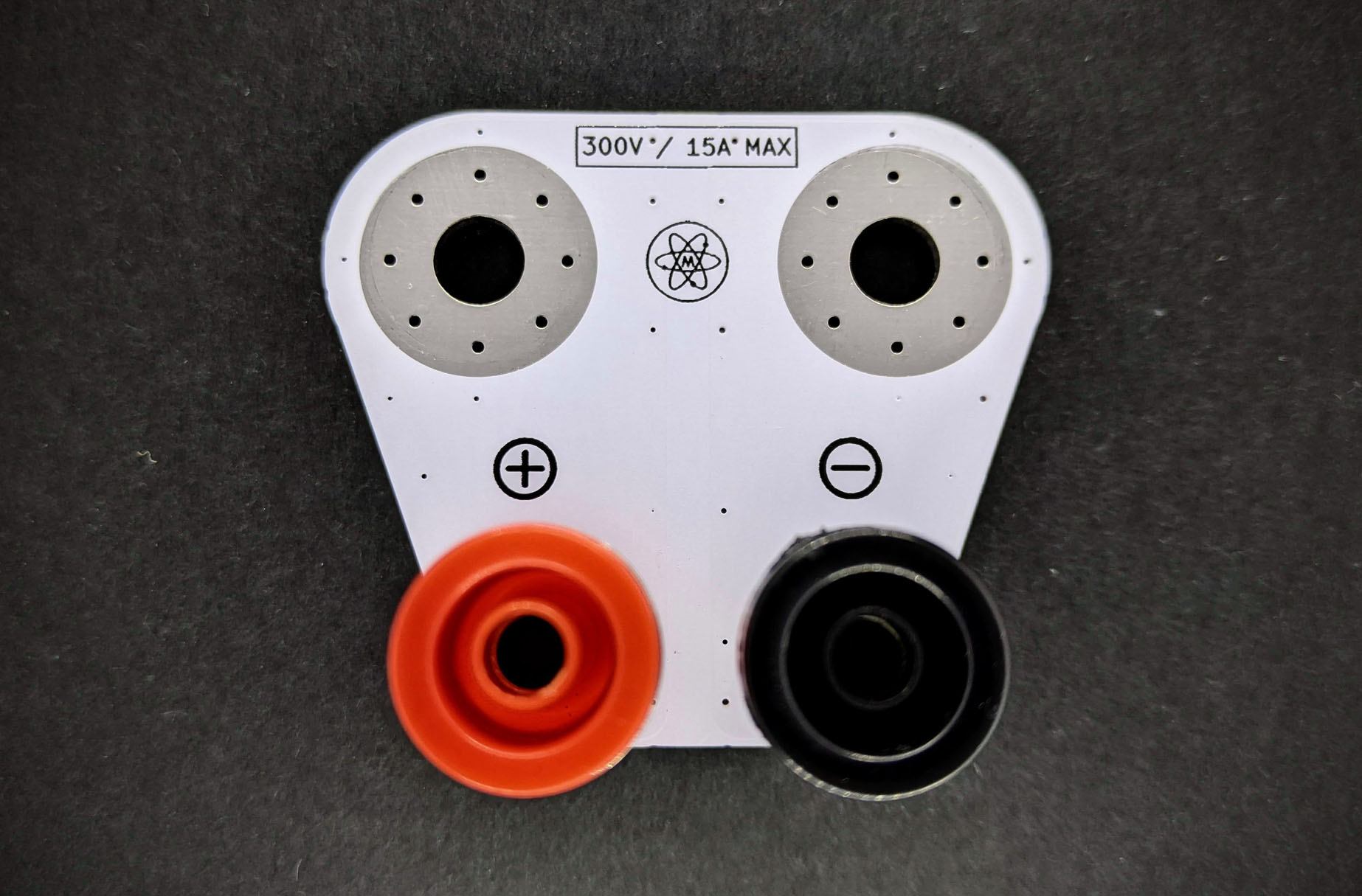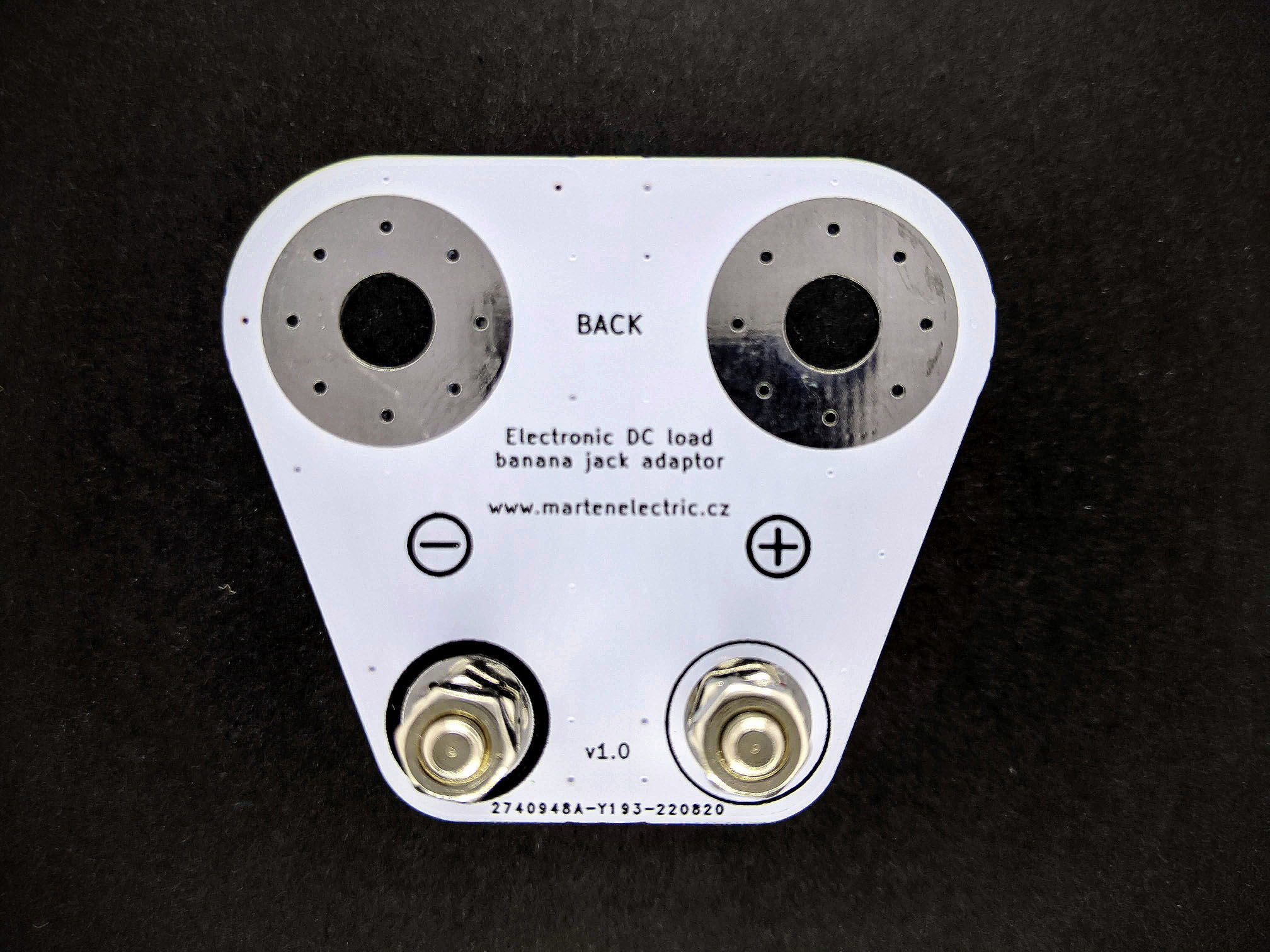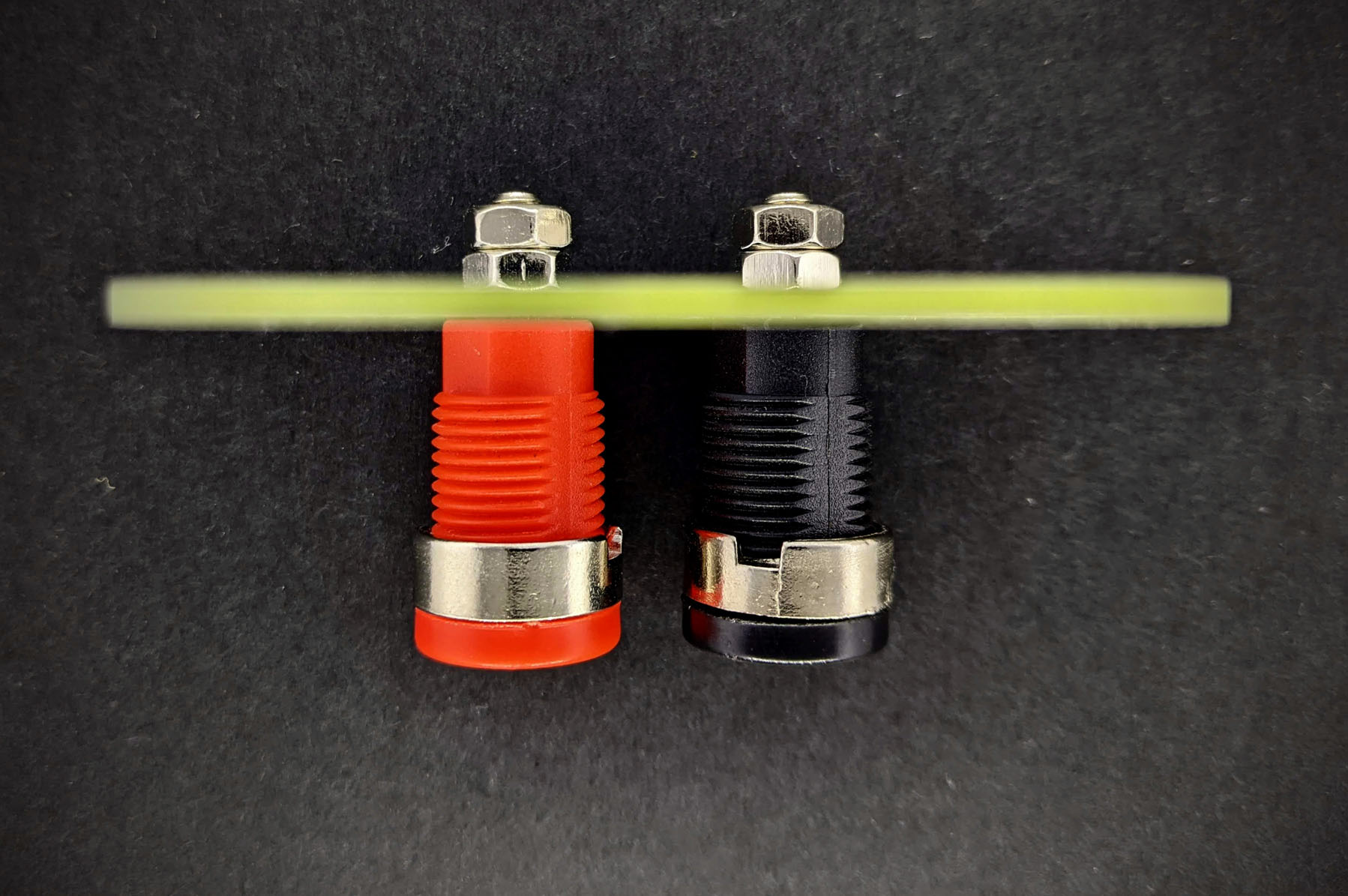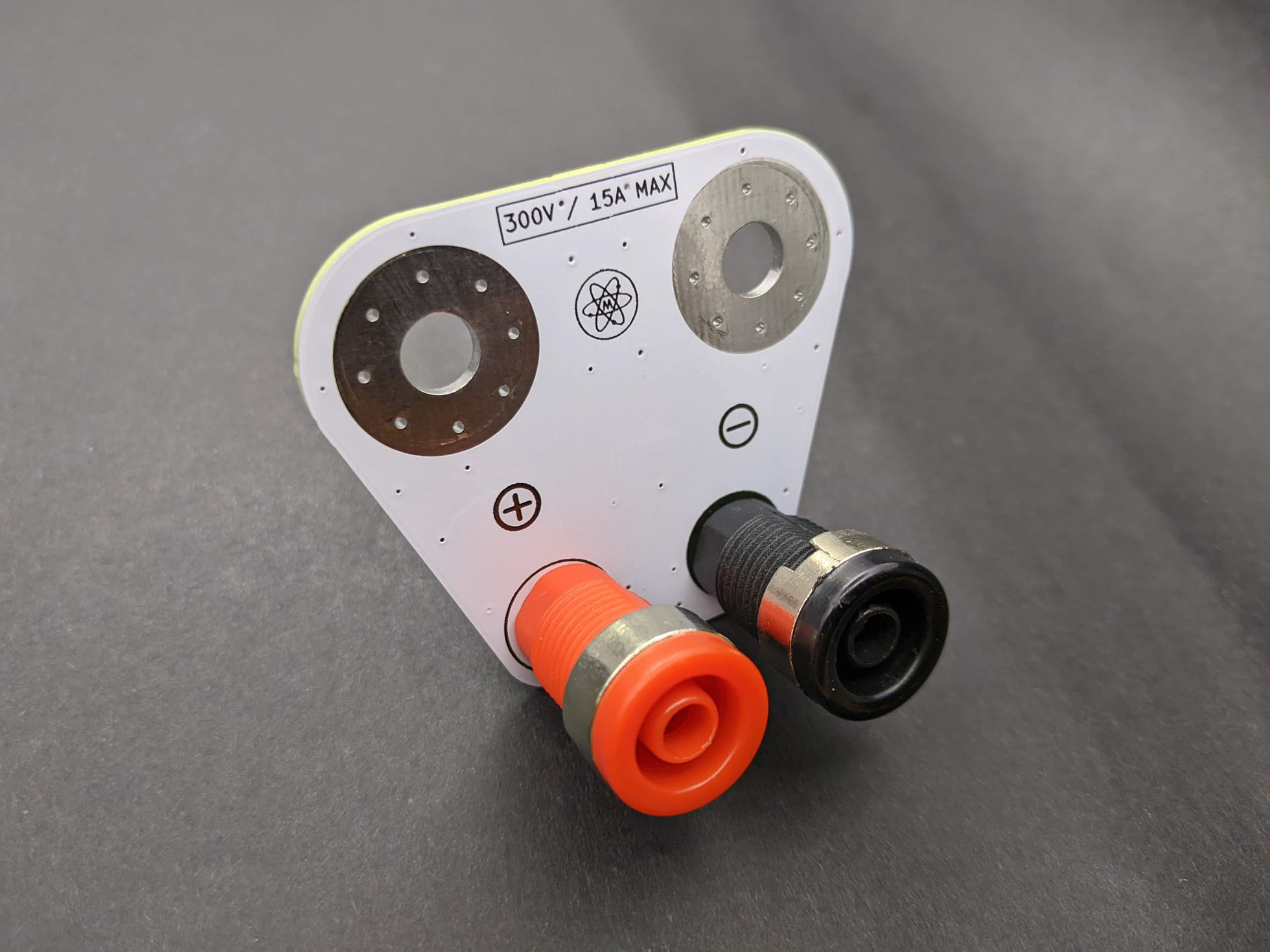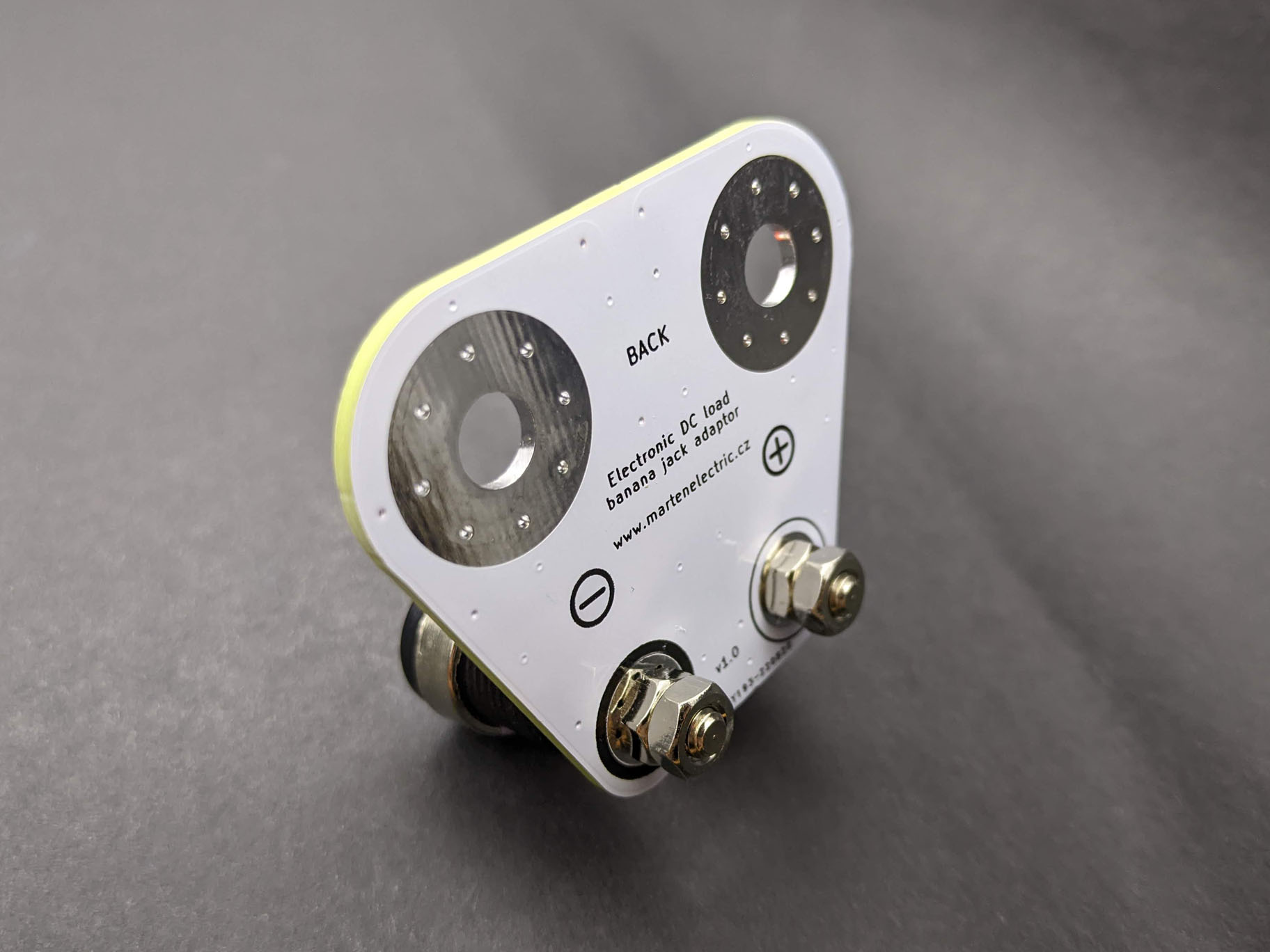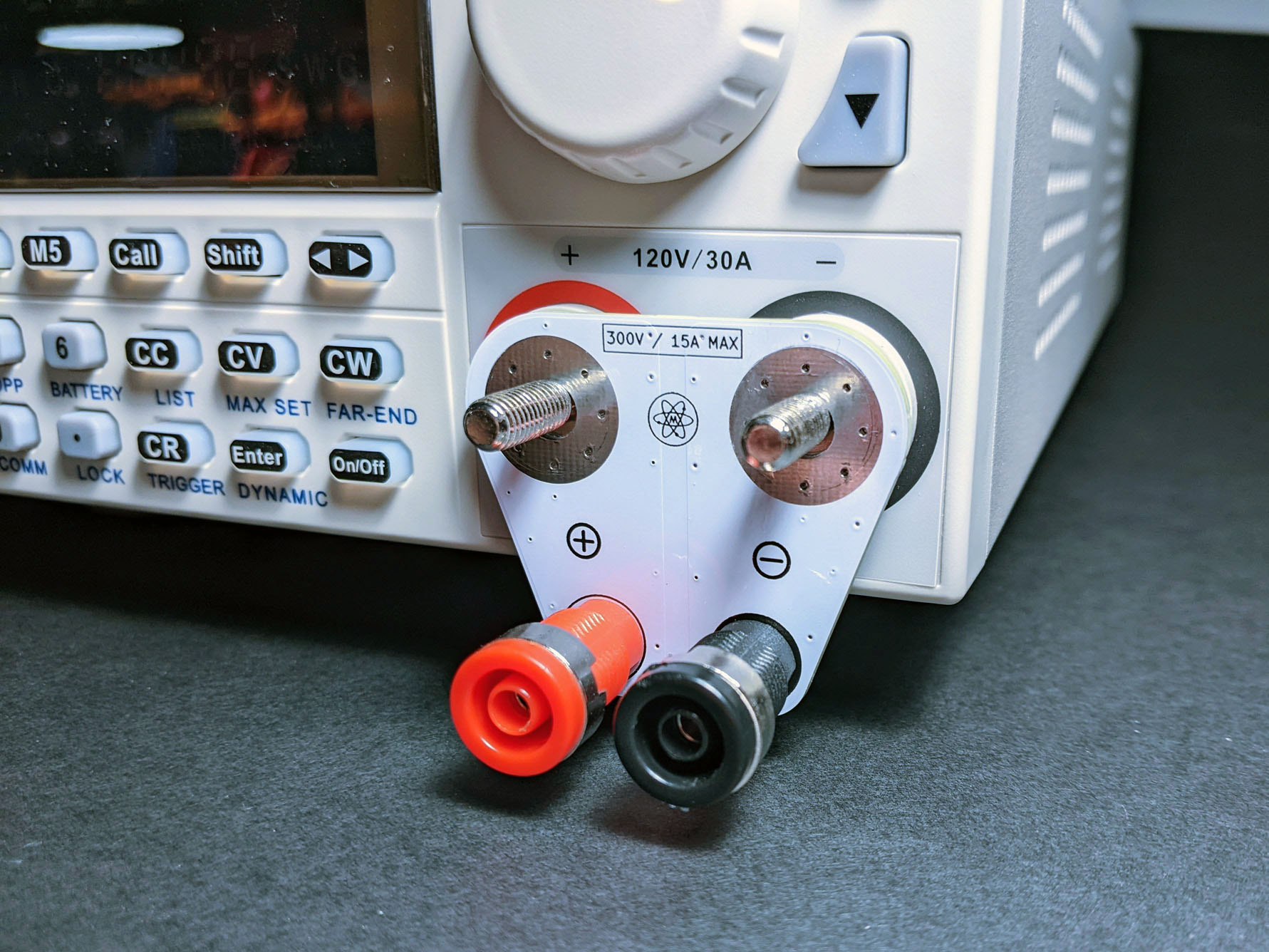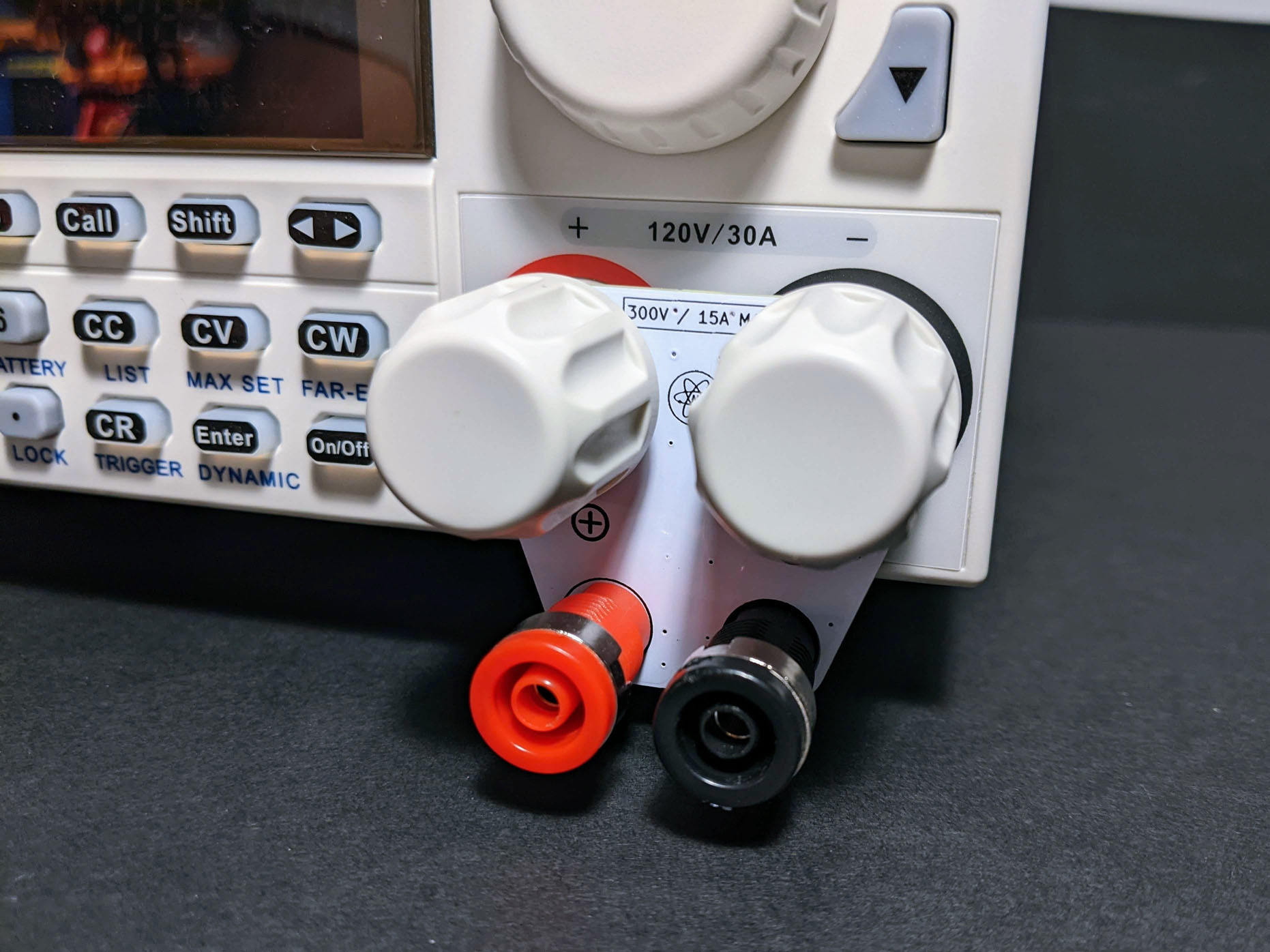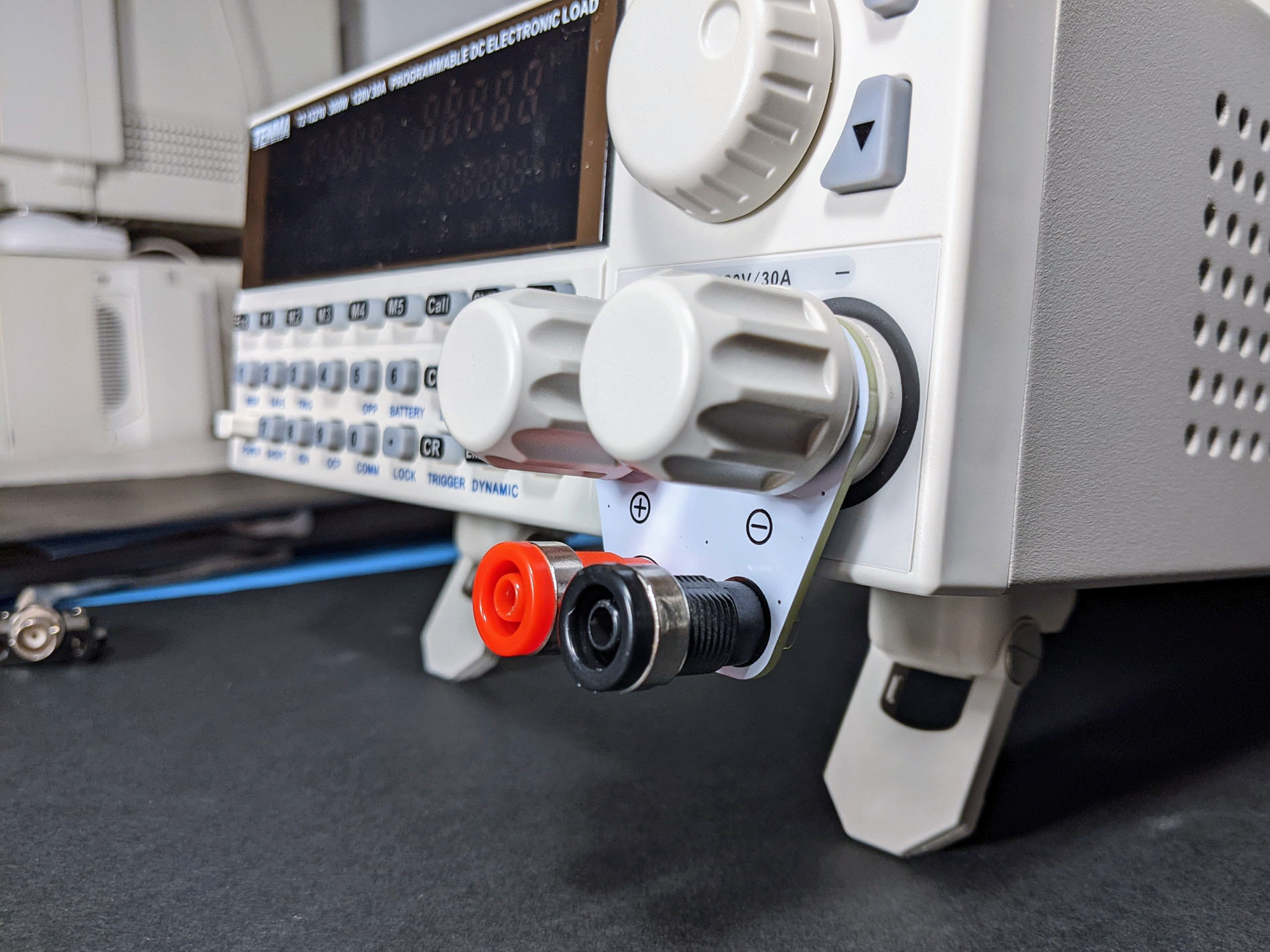 Adapter fits all dual banana plugs and/or banana plugs to BNC adapter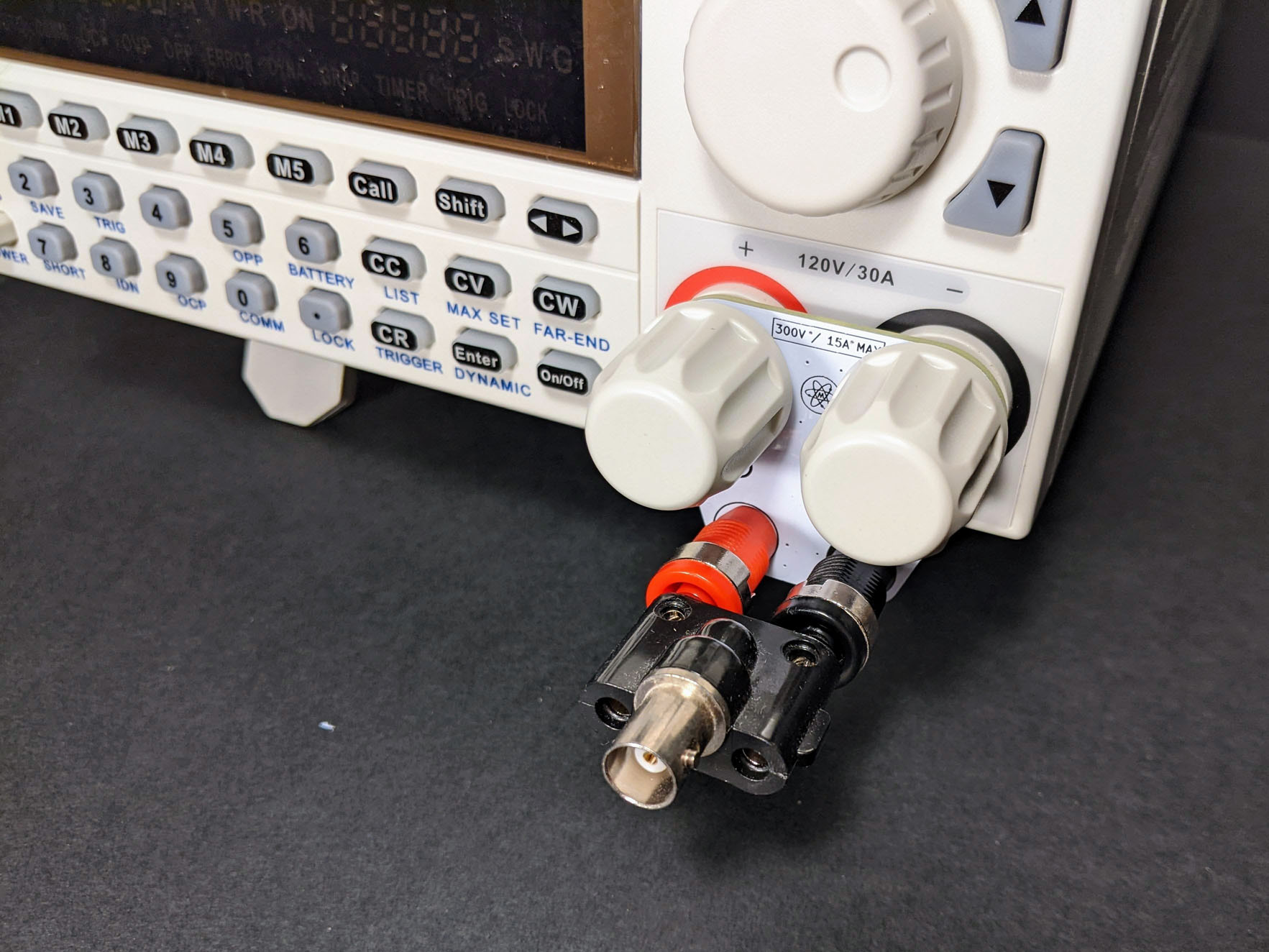 Feeling proud* of my little widget. It breaks no sweat at 26A (all my PSU's combined)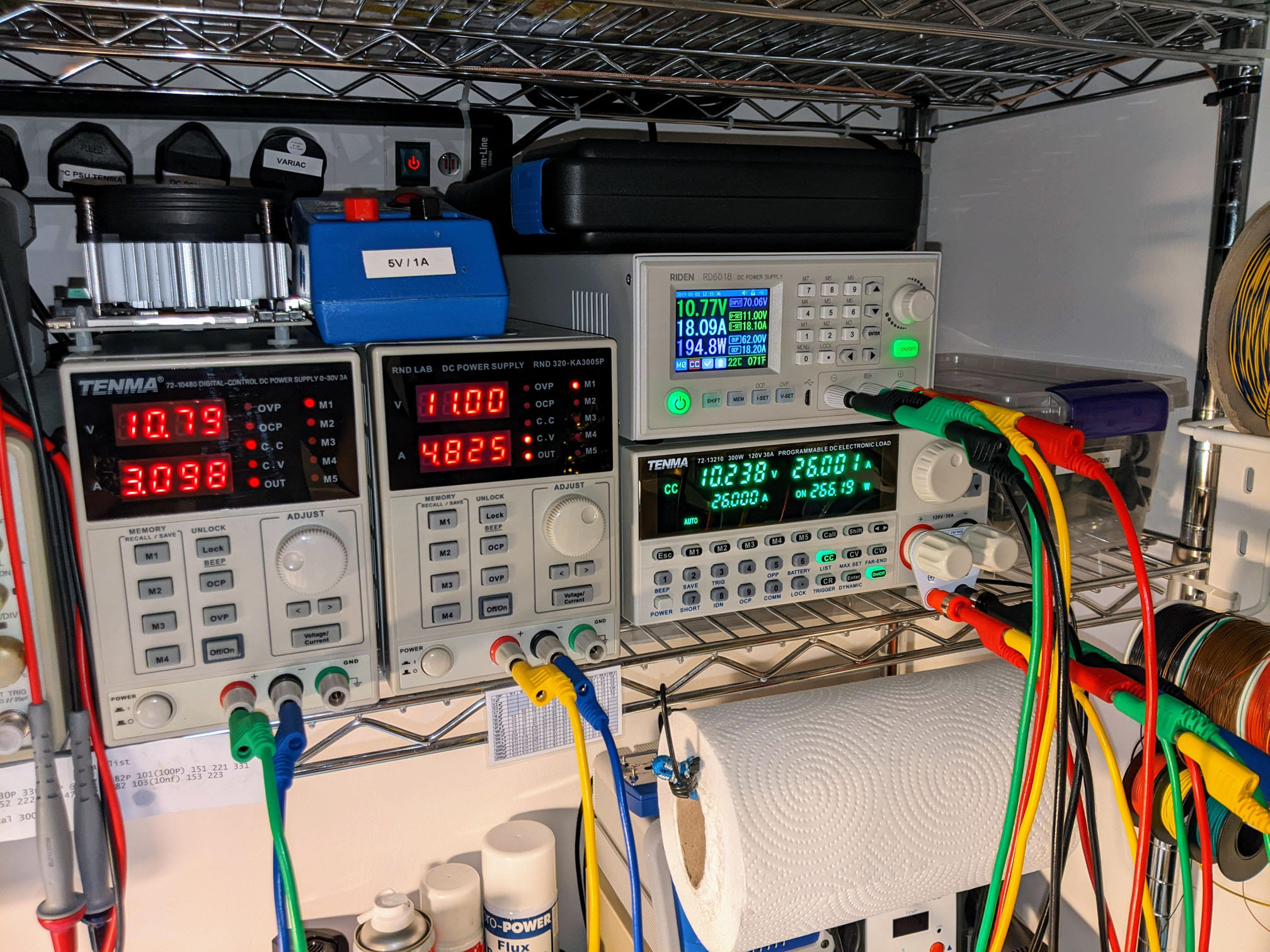 Versions and revisions
This section lists the project version and revision history.
v1.01
■ Minor silkscreen updates
■ Increased current rating to 30A

v1.0
■ Prototype

Last page update: 21 September 2022